By using the filtering equipment with centrifugal separation (cyclone) for temporary treatment of the dirty liquid, you can separate sludge from clean liquid and collect the sludge efficiently.
For those who are already using the filter already using filter, after using das catch for the primary processing, passing the coolant liquid through the current used filter greatly improves the dirt of the filter, It is also useful for reduction and environmental cleanup.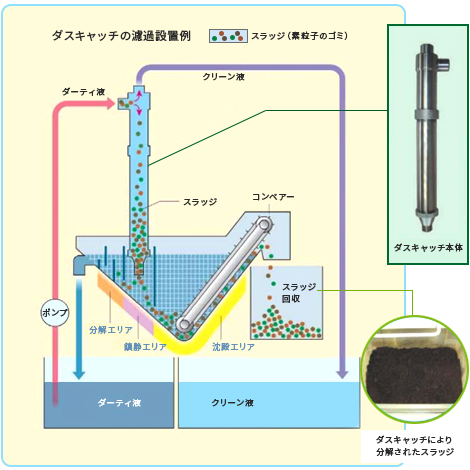 Did not you spend time and effort on filter replacement work etc in the current machine?
Das catch greatly reduces such costs.
· No filters (paper, cloth, filter etc.) necessary means no filter replacement costs.
· No clogging, no maintenance required.
· Much less cleaning the inside of the coolant tank.
· Sludge discharge can be done by a timed automatic electromagnetic valve.
· As it is manufactured by processing stainless steel, it is resistant to both oil-based and water-based rust.
(However, please understand that the permeation performance will decrease if using high viscosity liquid)
Model
DSC-40
DSC-160
Total body weight
3kg
6kg
Total body length
481mm
603mm
Total body length
φ58
φ92
Recommended pump
0.25 kw or more
1.5 kw or more
Processing flow
(Drain close)
40L L / min
180 L / min (when 2.2 kw pump is used)
135 L / min. (When 1.5 kw pump is used)
Target coolant liquid
Water soluble
Target sludge
Iron type, aluminum, abrasive waste (Estimated: something that sinks in water, what can be recognized as grain)
Body material
stainless