Address the weaknesses of traditional die replacing methods by taking advantage of their strengths
When removing the die from the press machine, we remove not only the die but also the plate laid to prevent wear of the die holder body (aka hard plate). By removing the top and bottom dies at the same time, the die is "sandwiched" between hard plates. We call this state of the die and hard plates a "cassette". We replace the cassette leaving the die holder inside the press machine. Moreover, a mechanism for fixing the cassette by hydraulic pressure is built inside the die holder. This eliminates the need for the extremely dangerous, dirty and effort-consuming work of detaching the die with bolts inside the press. It makes fixing the die safely and easily by a simple button operation possible.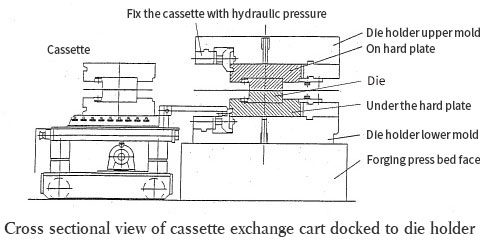 Also, since cassettes are lighter and smaller than conventional die holders, they do not require large-scale like a die holder replacement machine, and cassette handling can be carried out from a simple push car. There is also no need to secure a wide area for cassette storage such as required for a die holder. Inversion of a cassette upper die can also be done more easily than for a die holder upper die, with no dangerous operation involved.